Furnace Installation, Repair and Maintenance
Since 2006, Aspen Aire has been serving Des Moines, Ankeny and all of central Iowa with expert furnace service, including installation, repairs, replacement and maintenance. Call us today to learn more and receive a free quote.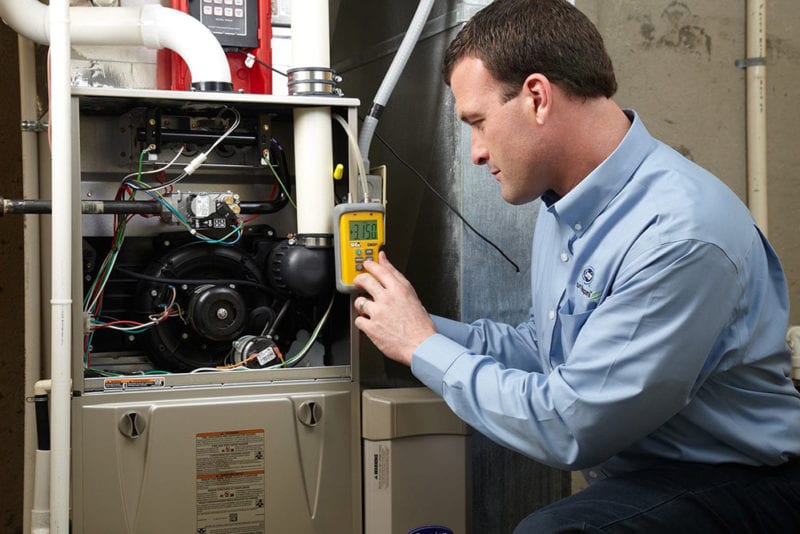 Furnace Repairs
If your furnace won't turn on, makes strange noises, isn't putting out much air, cycles on and off frequently or is suddenly using more gas or electricity than normal, contact us for service. Our experienced HVAC technicians will work quickly to diagnose the problem and recommend the best, most cost-efficient repair.
We service all furnace brands and we're available 24 hours a day seven days a week for emergency heating repairs in Des Moines and Ankeny.
4 Easy Things to Check Before Requesting Furnace Service:
Make sure the thermostat is on and set to Heat or Auto. If the thermostat won't turn on, it may just need new batteries.
Make sure the furnace has a clean air filter. A clogged filter can block the airflow and reduce the furnace's performance.
Check the breaker. If it has tripped, turn it off and then back on. If this fixes the problem, you're all set. If the breaker immediately trips again, leave it off and call for service.
If you recently had repairs or service done that required the gas supply to be shut off, make sure the gas is turned back on.
Furnace Tune-ups
To help prevent costly breakdowns, we recommend having your heating system cleaned and checked every year. Annual furnace tune-ups will help your equipment operate more efficiently so it will last longer and keep your energy costs down. In addition, any potential problems can be fixed early, so you're not left without heat on the coldest day of the year.
Your furnace tune-up should be scheduled during the fall, before the heating season begins. Our technicians aren't as busy then, so you can get your furnace serviced sooner and ensure it's ready for the cold Iowa winter.
AC Tune Up

Financing Available!

Join Our Club

$180

Get equipment checks, free filters, priority service and more. LEARN MORE>

Air Purifier Special
New Furnace Installation
Whether you're building a new home or replacing your old worn-out furnace, we can install a new Carrier, Amana or Rheem model. We recommend these high-quality brands because they offer a number of energy-efficient options.
We'll come to your home in Ankeny, Des Moines or central Iowa to assess your current furnace, take measurements and discuss any heating issues you're having now. Then we'll provide you with a list of furnace models that are the right size for your home.
We can also recommend solutions for rooms that are too hot or cold, dry indoor air or improving the air quality in your house. If you're looking to add some automation or smart technology to your HVAC system, this is also a good time to install a Wi-Fi thermostat like those from Nest. Whatever your needs or concerns are with your heating system, we can address them.