When it comes to indoor air quality, many homeowners are concerned about allergens, germs and bacteria. At Aspen Aire Heating & Cooling, we recommend adding UV lights to home HVAC systems to kill mold, bacteria, viruses, fungus and other germs or microbes in the air. If you live in the Ankeny and Des Moines area, contact us today for a free quote for home HVAC ultraviolet light installation.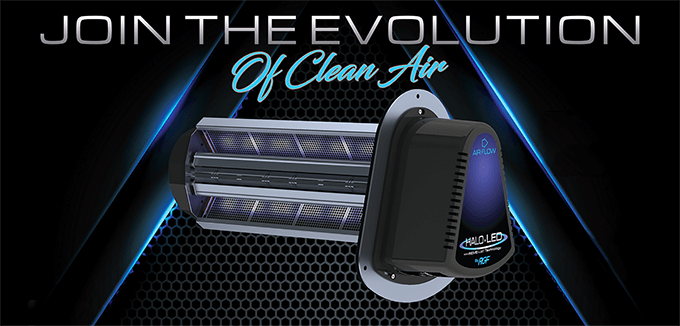 Ultraviolet Air Germicidal Lights
The REME HALO air germicidal lights use zinc ions to kill 99% of bacteria on surfaces. This air duct-mounted system reduces 99% of germs from sneezes within three feet. In addition, HVAC UV lights by REME HALO neutralize odors, reduce VOCs, smoke, viruses, bacteria and other air particulate and pollutants in the home.
What is an HVAC Ultraviolet Light?
In HVAC systems, UV lights may be referred to as germicidal, purifying, sterilization or sanitizing lights. They are located either near the indoor coil or inside the return air ducts. UV germicidal lights kill bacteria, mold, fungus, germs and other microbes that can aggravate allergies and asthma, cause musty odors in the home and even clog the HVAC system. The lamps can be plugged into an outlet or wired into the system.
How Do HVAC UV Lights Work?
For more than 100 years, ultraviolet (UV) light has been used to sanitize equipment because it kills viruses, mold and even antibiotic-resistant bacteria. Germicidal UV light is used for sterilization in restaurants, hospitals and even grocery stores.
Coil UV lights shine on the surface of the coil, which condenses moisture and removes it from the air when the AC runs. The coil's surface is wet, so it collects pet dander, dirt and other pollutants as air passes over it. This is a perfect breeding ground for mold or bacteria to grow and then disperse throughout your home in the air. High-quality UV germicidal lights, like those from REME, kill germs, bacteria and mold, as well as keeping the coil free of pollutants.
Air UV lights are installed inside the central air system's return air ductwork. They kill mold and germs in the air that passes through the ducts. Lamps are typically either a U-shaped or stick design. Depending on the model, air HVAC germicidal lights can be hardwired into the system, so the UV light only turns on when the blower is running.
Benefits of HVAC Ultraviolet Lights
There are a variety of reasons homeowners choose to install germicidal UV lights on their HVAC system, including:
Fewer Allergy Symptoms
Ultraviolet light kills mold, fungus and other airborne microbes that are known allergens.
Reduced Illnesses
UV light disinfects the air, killing viruses and bacteria that cause colds and flus.
Fewer Odors
HVAC UV light removes Volatile Organic Compounds (VOCs) and smells from the air.
Improved Airflow
The system's coils are continually cleaned by UV light, so there are fewer blockages.
Better HVAC Efficiency
Cleaner coils result in a central air system that operates at higher capacity.
Request a Quote
In Des Moines or Ankeny, Iowa, contact Aspen Aire Heating & Cooling today to request a free quote for adding Germicidal UV lights to your home's HVAC system.