Heating Experts Available 24/7
Whether you need heating system repair, installation or replacement, trust the experts at Aspen Aire Heating & Cooling. We've been serving Des Moines, Ankeny and central Iowa since 2006. We offer 24/7 emergency service.
We install and service gas furnaces, geothermal systems and heat pumps. We also install in-floor radiant heat systems in new homes.
Discounts & Rebates

Furnace Check

AC Tune Up

Financing Available!

Join Our Club

$180

Get equipment checks, free filters, priority service and more. LEARN MORE>

Air Purifier Special
In-floor Heat
For new homes, we install in-floor radiant heating systems to provide comfortable footing all winter. They're a great option if you love the look of tile or wood but don't love the idea of cold floors on winter mornings. In-floor heat can be also be installed under carpet or vinyl. It's commonly used in bathrooms and also works well for bedrooms, kitchens, living rooms, basements and more.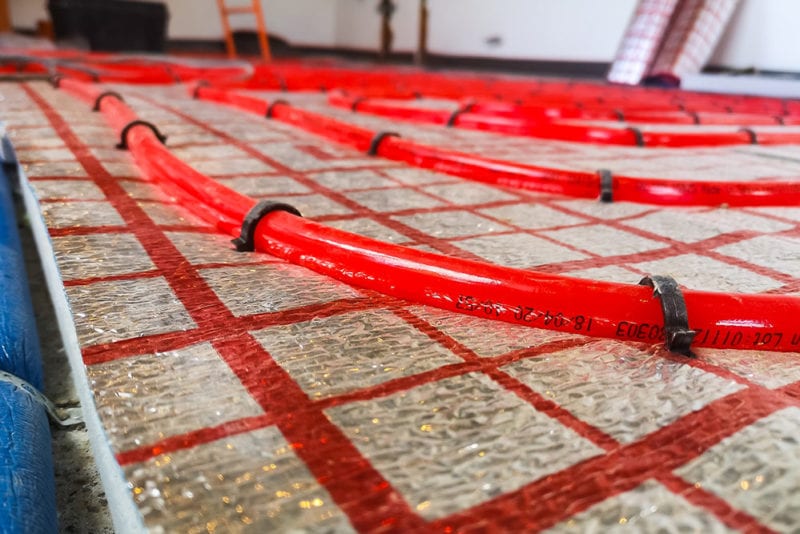 Great Customer Service

"Aspen Aire customer service was more helpful than Rheem customer service by several orders of magnitude."

Professional, Clean & Courteous

"Your crew was professional, clean and courteous. I would highly recommend your company to anyone considering a residential repair or installation."
---
Zoned Heating
Zoning an HVAC system can help reduce energy use and save on heating costs while maintaining a more even temperature throughout the home. If your home has multiple stories or rooms that always seem too cold, contact us to see if zoned heating could be the answer to keeping everyone comfortable.
Larger homes with a second floor often use two or more HVAC systems to regulate the temperature of each story separately. However, smaller homes may get more benefit from a single HVAC system that's divided into zones that each have their own thermostat and can be regulated individually.
A zoned HVAC system uses dampers to control the airflow into each zone, which could be an entire floor or just one room. Zones can be configured so everyone's bedroom is at an ideal temperature for sleeping and there's no energy wasted on unnecessary heat for rooms that rarely get used.
Signs Your Heating System Needs Repair
Whether you have a furnace, heat pump or a geothermal system, unusual noises, odors or performance should be addressed. If you notice any of these common problems, call us at 515-257-8370. Emergency furnace service is available 24 hours a day, 7 days a week for customers in Des Moines, Ankeny and central Iowa.
Short cycling, or turning on and off frequently
Furnace shuts off after only a few minutes or seconds
Furnace won't stop running
Unusual noises like a scraping sound or a high-pitched squeal
Furnace not blowing air
Furnace is producing little or no heat
A bad smell coming from the vents
The pilot light flame is yellow
Carbon monoxide detector goes off
Note: If you smell gas, leave your home immediately and call your gas company or 911.