Thermostats are the "brains" of a heating and cooling system. They connect to your furnace, AC or heat pump and allow you to control and monitor the temperature inside your home or business.
Aspen Aire repairs and installs thermostats in Ankeny, Des Moines and the rest of central Iowa. We can work on all types of thermostats. If you need a new one, we offer Carrier and Nest thermostats. However, there are many different options on the market today that fit different budgets and needs, so we can also help with recommendations or install a thermostat you've already purchased.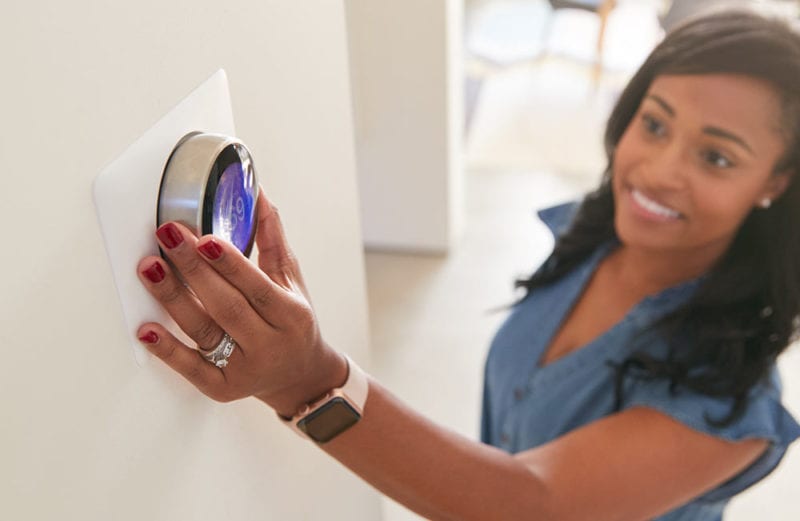 Smart Thermostats
For even more control and reduced energy usage, there are a wide range of smart thermostats available. They're connected via Wi-Fi and can be controlled from anywhere with an app on your smartphone or even with your voice. You can set more precise temperature schedules and some models even "learn" and automatically adjust to your schedule. This level of control allows most homes and businesses to lower their heating and cooling costs by allowing the furnace and air conditioner to run less when the building is unoccupied.
Aspen Aire is a Nest Pro Partner Installer, so our technicians have been specially trained to install Nest products, including learning thermostats. And if you're a MidAmerican Energy customer looking to take advantage of their rebates on smart thermostats, we're a trade ally who can install qualifying models.
Programmable Thermostats
A programmable thermostat has a little more functionality. They allow you to automatically adjust the temperature according to a schedule that you set up. Programming your HVAC system to run less during times that you're at work, on vacation or sleeping can help save energy and money.
Basic Thermostats
This is the least-expensive thermostat option. As the name implies, they have basic screens and just a few simple buttons. A basic thermostat allows you to monitor and manually adjust the temperature. Newer models are digital, and older ones have a mercury or mechanical contact point that triggers the HVAC system to start or stop.
Zoned HVAC System
Zoning an HVAC system can help reduce energy use and save on heating and cooling costs while maintaining a more even temperature throughout the home. If your home has multiple stories or rooms that always seem to hot or too cold, contact us to see if zoned heating and air conditioning could be the answer to keeping everyone comfortable.
Larger homes with a second floor often use two or more HVAC systems to regulate the temperature of each story separately. However, smaller homes may get more benefit from a single HVAC system that's divided into zones that each have their own thermostat and can be regulated individually.
A zoned HVAC system uses dampers to control the airflow into each zone, which could be an entire floor or just one room. Zones can be configured so everyone's bedroom is at an ideal temperature for sleeping, the home gym stays cool all year and there's no energy wasted on unnecessary heat and air conditioning for rooms that rarely get used.
Carrier Thermostats
Carrier Comfort Series Thermostat
Programmable and Non-Programmable Available
View Details
Carrier Infinity Touch Control Thermostat
Programmable
Smart
Control Up to 8 Separate Zones
Carrier Performance Series Thermostat
Programmable or Non-Programmable
Removeable Memory Card
Rheem Smart Thermostat
EcoNet Smart Thermostat
Programmable smart thermostat with WiFi and touch screen
View Details
Nest Smart Thermostats
Nest Learning Thermostat
Beautiful Design
Proven Energy Savings
Nest Security Products
Nest Secure Alarm Starter Kit
Secure Your Home with Nest Detect & Nest Tag
Nest Detect
Motion Detection
Entry Monitoring
Nest Tag
Key Fob to Quickly Arm and Disarm Your Home
View Details
Nest Cameras
Nest Indoor/Outdoor Cameras
High-Quality, Smart Security Cameras
Nest Hello Video Doorbell
Know Who's Knocking
Nest Protect
Smart Smoke & CO Alarm
Nest Accessories
Nest Connect
Boost the WiFi Signal to Keep Everything Connected
Google Home and Chromecast
Both are Compatible with Nest Products