Heat pumps are a great solution if you're looking for ways to reduce your heating and cooling costs and lower your impact on the environment. These low-maintenance systems act as efficient all-in-one ACs and heaters. Aspen Aire installs and repairs heat pumps for homeowners in Des Moines, Ankeny and all of central Iowa.
Looking for Heat Pump Rebates and Tax Savings?
You may be eligible for federal tax credits for installing a heat pump, and MidAmerican Energy customers may be able to take advantage of rebates on new heat pumps. Contact us for a free quote and to learn more.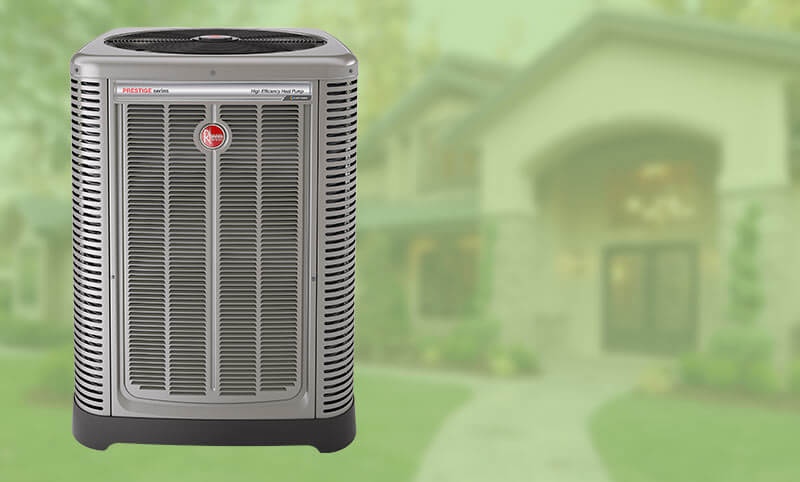 What Is A Heat Pump?
A heat pump is an energy-efficient complete air conditioning and heating system in one that keeps you comfortable through every season.
How Does A Heat Pump Work?
Heat pumps work by moving heat from one place to another. Depending on the type, this could mean pumping warm air from inside a building to the outside air or pulling heat from the ground and into the building.
Cooling Mode
In the summer, a heat pump works like an air conditioner by extracting heat from the air inside the home and transferring to the air outside.
Heating Mode
During the winter, there's still some heat in the outside air even when it feels cold to us. A heat pump pulls this heat out of the air and moves it inside. In mild climates, the outside air may provide enough heat to keep a house warm all winter. In Iowa and other middle and northern U.S. states, supplemental heat may be required on extremely cold days. In these cases, an electric heater provides heat. Heat pumps are so efficient that this process generates 2 or 3 times more heat than the electricity it uses.
Types of Heat Pumps
Standard or Air Source Heat Pumps
Standard heat pumps transfer heat to and from the outside air. They use the same refrigerant as air conditioners for this process. 
Geothermal or Ground Source Heat Pumps
Geothermal heat pumps transfer heat to and from the ground, below the frost line.
Benefits of Heat Pumps
Use 20-60% less energy
Federal tax credits and rebates available
Virtually no carbon emissions
Minimal maintenance
Low operating cost
Heat and cool evenly
Use one system for both heating and air conditioning
Heat Pumps We Carry
Just like furnaces and air conditioners, heat pumps vary in efficiency. To compare different models, check their HSPF (Heating Seasonal Performance Factor) and SEER (Seasonal Energy Efficiency Ratio) ratings.
Carrier Comfort™ Series Heat Pumps
Energy-Efficient Heat Pump
Up to 15.0 SEER
Up to 9.0 HSPF
Carrier Infinity Series Heat Pump
Extra-Efficient Heat Pump
Two-Stage
Up to 19.0 SEER
Up to 9.5 HSPF
Carrier Infinity 20 Heat Pump with Greenspeed Intelligence
Ultra-High Efficiency Heat Pump
Variable-Speed
Up to 20.0 SEER
Up to 13.0 HSPF