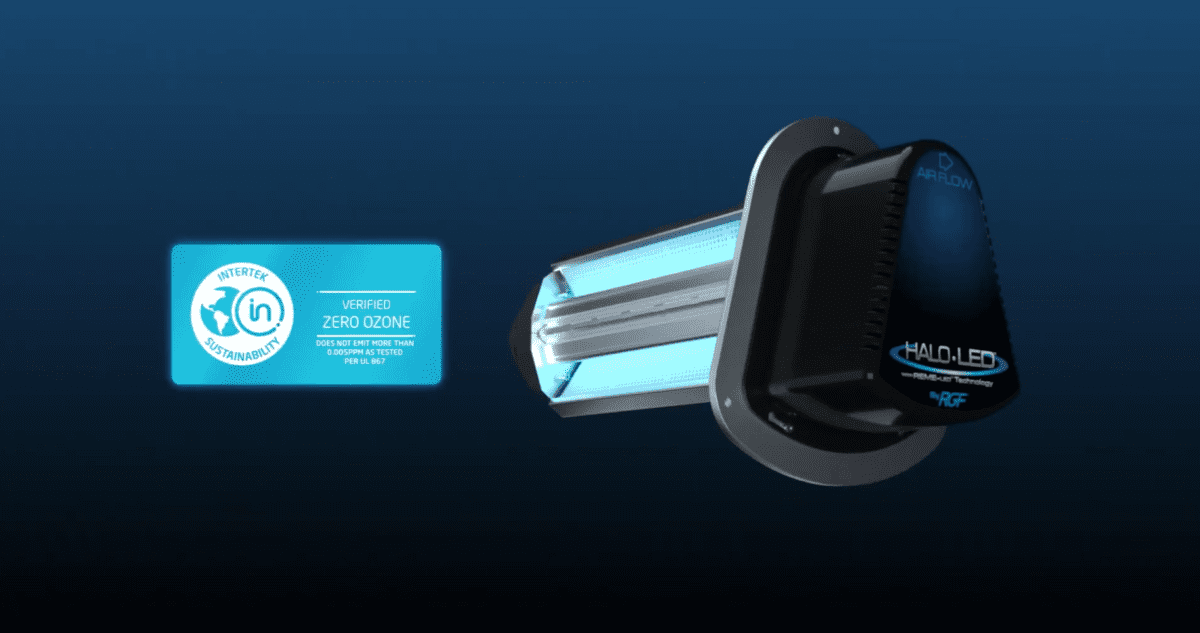 Indoor Air Quality (IAQ) issues that plague residents of homes and occupants of businesses are on the rise making the need for a IAQ solution imperative. RGF Environmental Group has developed a product that revolutionizes the IAQ industry.
Brochure Product Description
The REME HALOTM by RGF® is designed to eliminate sick building syndrome risks by neutralizing odors, particulate, air pollutants, VOCs (chemical odors), smoke, mold bacteria and viruses. The REME HALOTM is easily mounted into air conditioning and heating systems air ducts where most sick building problems start. When the HVAC system is in operation the REME HALOTM creates an Advanced Oxidation Plasma consisting of: Ionized Hydro-peroxides, Super oxide ions and Hydroxide ions. All are friendly oxidizers. By friendly oxidizers we mean oxidizers that revert back to oxygen and hydrogen after the oxidation of the pollutant.
The Sneeze Test – Kansas State University Study
REME HALOTM sends Advanced Oxidants throughout the room to kill microbials at the source.
Average sneeze microbial reduction: 99%
Quick Release Feature
No Tools required for servicing
Kills Bacteria, Mold and Viruses
Reduces Odors, Particulate, Smoke and VOCs
Recommended By
Major hotel and restaurant chains, cruise lines for Norwalk Virus Protection and military for mold reduction
Kills 99% of Sneeze Germs Within 3 Feet
New Zinc Ions Kills 99% of Viruses on Surfaces
Additional Test Results
Test Results Samples of university & independent lab tests and major corporation studies.
Now tested on H1N1 Swine Flu with 99+% Kill on surfaces
4-log reduction (99.99%) surface bacteria/virus reduction
Over 85% VOC reduction
99% of microbes in human sneeze killed at 3 feet
97% airborne bacterial reduction
99% reductions of Ecoli, Listeria, Strep, Tuberculosis, Bird Flu, etc.
85% odor reduction
97% airborne mold reduction
US Military approved for mold protection in field hospitals
Hospital approvals Infectious Diseases – U.S. and International 99% reduction of Staph (MRSA)
Major US city school reports 20% reduction in absenteeism
Tested and approved by the Chinese Government for protection against the SARS virus
Approved by the USDA, FSIS and FDA for use in food processing plants
Fox News three-part indoor air series featured RGF and concluded substantial mold and bacteria reductions
RGF's technology has been featured on Fox, ABC, CBS and in Popular Science Magazine