Heating & Air Conditioning in Waukee, IA
Aspen Aire is a trusted HVAC company in Waukee, IA providing quality cooling and heating system installation, maintenance and repair. We've been serving residential and commercial customers throughout Dallas County since 2006. As a 2021 Rheem Top Pro Partner, you can count on us to install reliable, energy-efficient Rheem furnaces, air conditioners, heat pumps and geothermal systems.
We take pride in providing our customers with expert repairs on all air conditioner and furnace brands. When it's time for your annual AC inspection or furnace tune-up, count on us to ensure your heating or cooling system is ready to operate safely and efficiently all season long. Our licensed HVAC technicians are here to help you with efficient, friendly heating and cooling service when you need us.
Emergency Service Available 24/7
Call 515-257-8370 now for immediate assistance.
Save with a Club Membership
For one low annual price, you can enjoy free equipment checks, priority service, and other discounts. Find out how you can become a club member and save today!
Air Conditioning Services in Waukee
You can trust the experts at Aspen Aire Heating & Cooling when you need AC system repair, installation or replacement in Waukee, IA. Our licensed HVAC technicians provide AC tune-ups, maintenance, air conditioner repairs and AC replacement for homes and businesses. We have more than 17 years of experience inspecting, servicing and repairing all commercial and residential air conditioner brands.
If it's time for a new air conditioner, Aspen Aire installs high-quality, energy-efficient Rheem AC units or heat pumps. We'll carefully evaluate your home's cooling needs and then recommend a cooling system with the efficiency you're looking for that will keep your home comfortable. Our technicians can also recommend ways to help your AC unit last longer and keep it running efficiently.
Contact us today for:
Air conditioning repair
Air conditioning maintenance
Air conditioning installation
Ductless cooling services
Heat pump services
Geothermal cooling services
Professional Heating Service in Waukee
When you need heating system repair, replacement or installation in Waukee, IA, you can trust the experts at Aspen Aire Heating & Cooling. We repair and replace gas furnaces, electric furnaces, geothermal systems and heat pumps. We even install in-floor radiant heat systems for added comfort.
Our licensed HVAC technicians are trained to inspect, maintain and repair all furnace, geothermal and heat pump brands for our residential and commercial customers. We're here 24/7 for emergency furnace repairs. And if it's time for a new heating system, we're a Rheem Pro Partner and we install high-efficiency Rheem heat pump systems, and gas or electric furnaces.
Contact us today online or by phone for:
Heating installation
Heating repair
Heating maintenance
Furnace repair and maintenance
Geothermal heating services
Indoor Air Quality Services
Indoor air pollution can be worse than outdoor air, but rest assured, we offer several solutions to improve the indoor air quality of your home or office. Aspen Aire Heating & Cooling can add equipment to your existing heating and cooling system to regulate humidity or reduce the amount of allergens, pet dander, dust, mold, bacteria and static electricity in the air.
You may be familiar with portable humidifiers and air purifiers, but these units only treat the air in a single room. A whole-house air purifier, on the other hand, can filter out airborne pollutants, viruses and bacteria to keep them from spreading throughout your home. Similarly, a whole-house humidifier adds moisture to the air that passes through your heating system. Maintaining proper humidity levels will help you feel more comfortable at a lower temperature, reduce static electricity, and limit the growth of viruses and bacteria.
Request your free estimate today for indoor air quality solutions:
Whole house dehumidifier
Whole house humidifier
Air purifier installation
Air purifier repair
Air filter replacement
A Trusted HVAC Company in Waukee, IA
Aspen Aire Heating & Cooling is a top HVAC company in Waukee, IA. Our licensed HVAC technicians are here to provide you with excellent customer service with a focus on improving energy efficiency and helping you feel more comfortable in your home or business. Contact us today for expert heating, cooling, and indoor air quality services in the Waukee area.
Serving These Zip Codes In Waukee, IA:
50263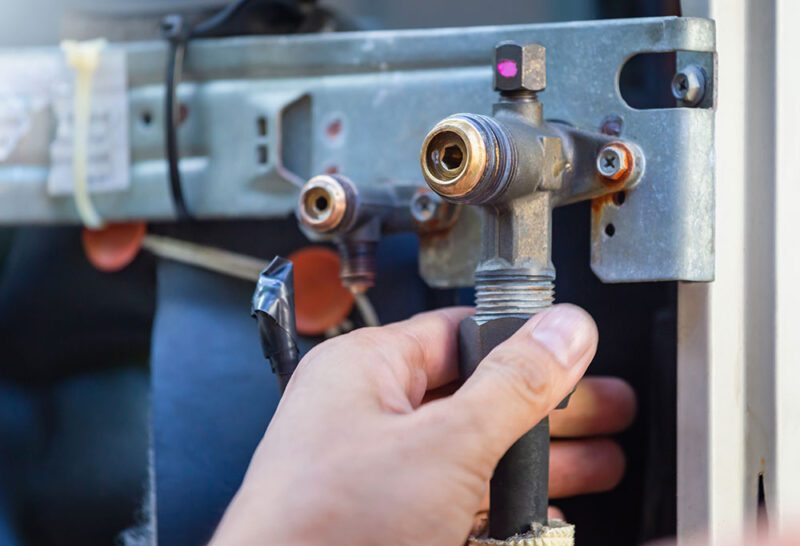 These Guys Rock

"These people were so fast to the finish. From the office staff routing my call to the right person to get things started. They ordered the parts for the complete system replacement correctly and quick. Then the install was done in one day. Wow! This was way quicker than I was expecting. They even put in a temp fan to keep us cool until the parts came in. These guys rock. THANK YOU ASPEN AIR!"

Quality & Service Was Amazing

"All in the same week as reaching out to Aspen Aire, Shawn was able to come out for a quote for a new furnace. Quote was available the next morning and was very affordable. Arrived promptly at scheduled time and had it installed in a couple hours! I would definitely recommend for any heating/cooling needs!"
---